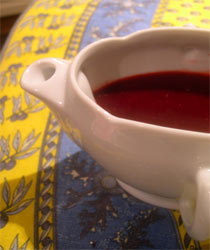 I decided to cook us a treat of pot roast pork. All was well when I checked the joint after an hour and a half. It was simmering gently. I secured the foil under the lid again and popped the pot into the oven for the final ninety minutes. When the timer pinged I was horrified to find that the gorgeous juices had reduced to nothing.
"Never mind. I'll make an apricot sauce," I thought as I poked about in the larder for a tin. All I could find was a tin of pineapple chunks donated by a generous client who had got fed up with them taking up space in her larder.
Then I had a brainwave. I could see some plums on the tree outside the kitchen window and had spotted some ripe blackberries in the drive that morning. I would make a blackberry and plum sauce for the pork. The sauce was easy to make and tasted intensely fruity – a good tangy foil to the fattiness of the pork. It would also go well with lamb.
Blackberry and plum sauce recipe (for 4)
Ingredients:
4 medium plums (barely ripe). Small cherry plums (I call these wild plums) would be fine too – I'd use about eight of these.
75 g of blackberries
Water to cover the blackberries
3 tbsp of white granulated sugar (you could use less if the plums were ripe and juicy)
1 large tsp of pale soy sauce
Method:
Wash and quarter the plums (don't worry about the stones as these will be released as the plum flesh cooks)
Wash the blackberries and place in a small saucepan along with the plums.
Add enough cold water to cover the blackberries and bring to the boil.
Add the sugar and stir to dissolve. Simmer briskly until the plums are cooked (about 10-15 minutes) and the liquid is reduced.
Add the soy sauce and cook for a further two minutes.
Sieve the sauce to remove the blackberry pips and serve in a warm jug.
Leave a reply