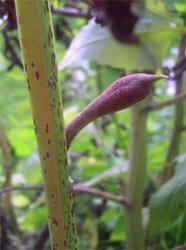 John Coe arrived this morning looking chirpy and presented me with a bag of his own beetroot. He clearly had got over his potato blight depression. We sat drinking coffee and chatting and all was well until we tramped down the garden and I stupidly mentioned tomato blight. He stopped walking and turned to me immediately.
"I had 15 plants standing out in the ground. They got the blight. Dead in three days. Disaster."
His face was grim.
Last night I discovered that our broad beans had been infected with Chocolate Spot and Rust and had been planning to burn the broad bean plants myself. Suddenly I had an instant remedy for his blues.
"John we need to make a bonfire."
Suddenly John was pulling on his bonfire building gloves, rushing for the petrol can, asking for newspapers and matches. Pyromania was the heady focus. He was in his element. For the past five months, he has been banned from making bonfires in our garden.
John's bonfires were never small affairs.
Eventually, a combination of complaints from neighbours, burning down part of a mature yew hedge and an old apple tree had me enraged. I waited a week to calm down before I tackled him. I managed not to shriek when I explained that from now on all fires had to be enclosed in the furnace dustbin (a nifty little galvanised dustbin with a chimney in the lid).
Disappointed, John nodded and stared into the middle distance. I knew from the set of his shoulders that he would never use the dustbin.
This morning I suggested using the dustbin. His response was positive. We walked up the garden together and J retrieved it from the shrubby north border. He was so delighted that the bonfire embargo had been lifted that he would have made a bonfire in a recycled egg box.
"Of course I'll use it. It needs emptying out. Let me tip out the debris in the bonfire area."
I opened the backdoor while I was cooking breakfast. The smell of wood smoke was drifting up the garden. Then I heard the unmistakable crack of large things burning rapidly. When I reached the old bonfire area, John turned away from the raging flames.
"I am burning all the stuff that I have stored for the past five months!" He chortled. "I'm using the dustbin. Look."
The dustbin was positioned between the flames and the remnants of yew hedging as a sort of barrier.
You can't teach an old pyromaniac new tricks.
Leave a reply