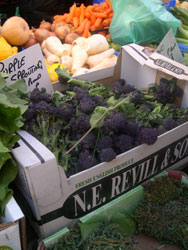 Danny turned over in bed this morning and pronounced,
"Borough Market was a revelation." Then he drifted off to sleep again.
Living such a quiet backwater life, London is always a shock. The crowds of people, the range of nationalities, the noise and smell of the place. There's a buzz and a rush that doesn't exist out in the sticks. Not having visited London for over a year, Borough Market seemed like another planet.
Here was Dutch Gouda cheese that had the crumbliness of cheddar, duck and truffle pate that melted with a gentle truffle explosion in my mouth, fresh sausages and hazlet from Lincolnshire, great rounds of Caerphilly from Wales, spices, spreadable salami from the toe of Italy, pretty French pastries, flowers, coffee, eggs, olive oil. After an hour, my head whirled. There was just too much to examine, taste and savour in one short visit. We had explored just a fraction of the market. What a fantastic resource.
After a short mad buying frenzy for our larder, we were happy to accompany Katherine and Paul as they shopped for the very special Sean Moran dish that they were planning to cook for us that evening. These friends are foodies through and through. The care that they took to find just the right ingredients was an inspiration.
Katherine bought Gloucester Old Spot free range pork chops, large fat sultanas and pink fir apple potatoes. A girl with pink cheeks and the clearest eyes I have ever seen, sold Paul sage and land cress. Katherine bought chunky heads of garlic from the Isle of White Garlic Company stall.
We visited a wine stand and discussed the perfect wine for the dish. We finally settled on a New Zealand Pinot Noir, which later exceeded our hopeful expectations. Despite the bustle and the crowds, the pace of buying was enjoyable and slower than in the country. The atmosphere was more continental than any English market that I have visited. Selecting and buying food is a serious but highly enjoyable business. With massive competition between the stalls, the stallholders clearly value their customers. They know how to generate interest by handing our plentiful samples and offering expert advice on using their produce in the best possible way.
Katherine explained that top restaurants buy ingredients from Borough Market and that it's now under threat, from the proposed Thameslink 2000 raillink development. You can sign a petition to stop this happening here http://www.sabmac.co.uk/.
Borough Market is open on Thursday, Friday and Saturday. Click on this link for more information and opening times as they vary each day http://www.boroughmarket.org.uk/index.php .
Leave a reply