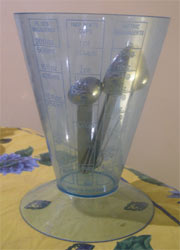 Last Sunday I drifted into TKMax. The shop is heaving with great stocking fillers. Scented drawer liners, a loofah, Amaretti, shortbread and Liquid French soap for my mum. Toffee for Danny.
The kitchen department is always worth checking out. I've bought great kitchen knives for under a pound. We needed a new saucepan so I went upstairs to see what they had.
I spotted a small clutch of measuring cups that were American cups. I was tempted, I wanted them. The little nest was so cute. Then I remembered that we had found this great site for conversions.
On this site you can convert weight, volume, butter, length and temperature. It also has a short ingredient list of cups to grams. Driving home from Cambridge this evening I mulled about converting ingredients that are not on the list. What happens if you want to convert something heavy to grams?
I shared my concerns with Danny and we ventured onto the site and discovered that the American fluid ozs and pints are different from British ones, I found a site that gives you the maths and a few useful tables.
Tomorrow Jalopy and I will be rumbling down to TKMax in the faint hope that they still have the American measuring cups. Maths was never my strong point.
Leave a reply