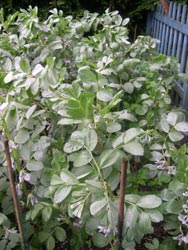 We planted our broad beans in November rather than the spring. Apparently you are less likely to get blackfly and blight and can crop an earlier harvest. We now have good strong plants. I also enjoyed seeing something growing in the vegetable patch during the winter.
I noticed this evening that the stems of the broad beans were beginning to flop. Some of the stems are nearly four feet tall. When the flowers develop into beans the weight of these can easily snap the stems. As we were expecting rain overnight, I thought it might be wise to rig up a simple support for each row.
I used three foot bamboo canes at the end of each row and garden twine. Push the canes into the ground at an angle away from the rows. The twine needs to be fairly tight and will straighten the poles. I use a length of twine on each side of a row. Tie one side first and gently lift the stems to the support, this will give you the space to tie a length of twine along the other side. Tie another support line to the bamboo canes if you think that the beans need it.
I managed to finish tying up the broad beans just as it was getting difficult to see and made my way back to the house with Inca our youngest Min Pin who is my ADC in the garden. We stopped to listen to the Mistle Thrush singing melodiously in a tall tree beside the pond. She is generally the last bird to sing at dusk in this garden.
Then a bat swooped past us and circled the pond above our heads. Its body dark but the large wings delicate, the skin letting the shy shine through. It circled above us until we reached the back door. I've noticed a lot more bats at dusk in the garden this year but usually they just zoom past and are gone before I can get a good look.
Leave a reply