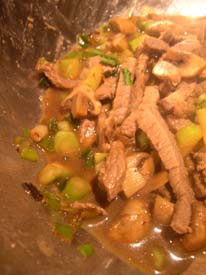 The Penultimate Paramour used to save the tree trunk from a head of broccoli to use in a stir fry. So did my mum. Perhaps it was a matter of too long in the wok but even chopped, the tree trunks were soft and watery with a flavour reminiscent of the compost heap.
We made a stir fry tonight. Back late from Essex, I was feeling buggy and it was my turn to cook. I had planned to make stroganoff but couldn't face the palaver. In a moment of desperation, I grabbed Nigel Slater's The 30 Minute Cook
and thumbed through the pages. This is a great book and when one is feeling tired and uninspired it comes into its own. I found a stir fry recipe – mushroom, spring onions and broccoli. He even suggests that lamb's liver is a good addition (we had all the ingredients in the fridge, including the liver). Unfortunately I had already announced that we were going to relish the beef, bought on a whim a couple of days ago. So decided to make the stir fry with beef.
I searched the fridge twice but I couldn't find the broccoli. Eventually I unearthed a branched stalk that I had kept for a vegetable stock. I have such a large aversion to the broccoli tree trunks that I forced down in my past that I now cut the broccoli just a centimetre from the florette. It was too late to change my mind again over tonight's meal so I pared off the dry bits and chopped it up into 0.5cm slices. It was in the hot wok
for just five minutes and retained its crunch. I was amazed. When Danny heard the boing of the gong and appeared in the kitchen, I gave him a slice on the point of a chopping knife. The lip action was delicate.
"I'm not sure what it is. But it's crunchy and the texture's good. Is it a distant relation of the water chestnut?"
The broccoli stalk doesn't taste like the florettes but the texture is good and with stir fries, texture is as important as flavour of the other ingredients. Danny thought that he was savouring the remaining stalklets of the florettes and was amazed to hear that he had eaten the chubby trunk.
Leave a reply