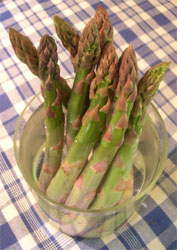 Five years ago my friend Bunty mentioned this recipe to me.
"If you are pressed for time. This asparagus dish is lovely. It is classy." She twinkled so much that I knew that this was a good dish. I was not tempted.
I love asparagus. Plain and steamed to a point where it still has a bite. Served with hollandaise sauce or melted butter. Why would I want to try a dressed up asparagus dish when I prefer my asparagus naked?
Today I visited Fred Fitzpatrick's and bought some excellent thinly sliced smoked ham. I grabbed the last bunch of East Anglian asparagus in Waitrose. Danny and I had just been out to lunch so we only needed a snacky evening meal. I finally decided to cook Bunty's dish.
Five years down the line I had forgotten a key ingredient. The problem was that I knew some sort of béchamel sauce was poured over the ham and asparagus. Was it a white sauce or did she add cheese? I decided to go with light cheesy and make the sauce fairly thick.
Our asparagus stalks were chunky. The width of my thumb. I had run the recipe past an old friend. She tipped that it would be best to cook the asparagus for 3-4 minutes and them plunge them into cold water before I started the dish. With this advice I twigged that there was no need to bake the dish in the oven. It could just be grilled, to brown the top and give the ham a chance to warm through.
The final result was delicious and rather chic. Initially Danny reckoned that this dish would be great with creamed potatoes by the time he was savouring his last bite he announced that it was a complete main dish. Bunty's dish is so good that I would eat this even on the first day of the English asparagus season.
The asparagus filling definitely needs to be the width of two small thumbs and the ham sliced fine (you may need to visit a deli or butcher for this). If you are using slimmer asparagus, wrap 3-4 stalks in each slice of ham. Our entrée dishes are quite big so I had space to try a single stalk of asparagus in a roll of ham. The asparagus flavour was weak in the one to one combination.
Bunty's half remembered Asparagus and Ham bake recipe
Ingredients:

1 bunch of asparagus
4-5 slices of thinly sliced smoked ham
1 tablespoonful of chopped parsley
For the sauce:
50g of butter
65g of plain white flower
500ml of milk (we use semi skimmed)
80g of mature cheddar and 30g of parmesan cheese grated (reserve one third of this for the topping)
0.5 tsp of sweet smoked paprika
Crumbs from two crusts of bread
Method:
Make your thick béchamel sauce. Heat the butter and, when it has melted, add the flour. Let this roux simmer for a minute or so to get a nuttiness. Add the milk gradually, stirring constantly so that the roux absorbs all the milk before you add the next splosh. In this way you should avoid lumps. When all the milk has been added let the sauce simmer for ten minutes to thicken.
Add two thirds of the grated cheese to the thick béchamel sauce and stir until it is absorbed. Add the sweet smoked paprika.Taste and season.
Steam the asparagus for 2-3 minutes depending on the thickness. It needs to be sharp knife soft- needing another minute or so. Plunge into cold water and drain.
Wrap 2-3 asparagus stalks in the ham and place them in an entrée dish, the folded side on the base of the dish.
Pour the sauce over the asparagus and ham.
Sprinkle the breadcrumbs and the remaining cheese over the surface of the dish and place under a medium grill for about five minutes to brown.
Leave a reply