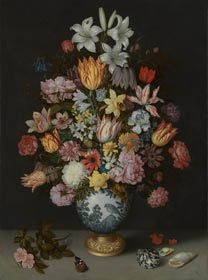 This is the time of year that the shelves are groaning with Spring bulbs at the local garden centres. Tempting displays that usually draw me in. But not this year. These little packs of 10 bulbs for £3.99 are too expensive. I'm buying in bulk.
When I first moved to the cottage I invested in a lot of tulip bulbs that gradually died out over the years – I had no idea that most of them need to be lifted and stored over the summer. Since then we have invested in species tulips that spread gently in the tubs and borders. There are two types of daffodils that flower in the grass in the front garden (both bought in job lots from wayside stalls). We have small groups of snowdrops, muscari, miniature daffodils, scilla, irises, aconites and crocuses that are gradually spreading. Not to mention the bluebells, whitebells and pinkbells – I've discovered that these last quite a few days in water if tips of the stems are conditioned for 20 seconds in boiling water.
Now we are selling flowers it's a great excuse to invest in more bulbs. I ordered quite a few tulip bulbs in early summer from Thompson and Morgan. Red tulips sell well and can be left in the ground from year to year – at 16.99 for 60 bulbs they were a snip. I also invested in some of the tulip collections that give 40 days of flowers and was tempted by the Rembrandt mixed tulips. Stunning tulips that we see in the paintings of the Dutch Masters
My friend Jo mentioned Leucojum bulbs last Spring. These last well as a cut flower and look like a giant snowdrop.  I couldn't find them on the T&M site which was a stroke of luck as I discovered this wholesale site Gee Tee Bulbs. The one thing to note is the delivery charge is £10 per order and the prices do not include VAT. However if you are interested in buying in bulk it's well worth checking out this site. For example Anemone de Caen are £4.50 per 100 (exc VAT), Pheasant's Eye Narcissus ( Poet's) are £7.50 for 50 bulbs.
I bought Leucojums, Pheasant's eye Narcissus (and old much loved favourite that has died out in the garden), double late Peony flowered tulips (just £8.50 ex VAT for 50 Carnival de Nice), Gee Tee also have a shop for those that wish to buy smaller quantities – VAT is included in the price and the standard delivery cost is £3.95.
Standard sized tulips need to be planted at least 6" deep and 5" apart. Shallow planting may result in lack of flowers as the bulbs need to be deeply frosted to flower well. Most of ours will be replacing the dahlias so will be planted after the first frosts when the dahlia corms are lifted. Tulip bulbs can be planted from October in the UK but November is the best time as it reduces the chance of the tulips getting fungal diseases. I've also planted tulips in late December with good results.
Narcissus (daffodil) bulbs are usually planted at a depth of 6" and 6" apart (this leaves space for the bulbs to develop and multiply) for a standard sized bulb in September or October. Later planting will give you poorer flowers.
Leucojums are planted from September to October at a depth of 4" and 4" apart. 
Anemone de Caen can be planted in mild areas in September for flowers in early Spring, in April for flowers in June/July and in June for flowers in August/September. The corms need to be soaked in water overnight before planting. Plant at a depth of  2" and 4" apart.
Most bulbs need a reasonably well drained soil in a sunny spot (although some varieties of Leucojums prefer shade). It's worth taking the time to dig in some compost or leaf mould to get good results. To achieve an informal planting effect I gently scatter the bulbs on the borders before planting. I also sprinkle some bonemeal in the holes to give the bulbs a head start.
Leave a reply