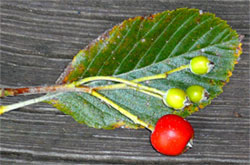 Mildred left a comment on the post "Can you identify this fruit" asking if anyone could identify a fruit that she had found in her local park.
"My query, if anyone can help, is about a tree in the local playing field. They are similar to the photo at the top of the page but smaller, only about 15mm, and round. They are red. The inside looks the same too. They seem to be growing in clusters like elderberries grow – not at all like the crab apples on my friend's tree!
At present only a few have turned red, the rest are still green. I wonder if they are likely to ripen now the days are drawing in. I would be very grateful for any help identifying them please :)"
Our copy of Richard Mabey's Food for Free
has inconveniently vanished. We have the bigger pocket edition that is great when you are out foraging but seems to get lost easily in the house.
I thought that they sounded like crab apples, until she sent me the photo above. I am now intrigued too.
Any help would be appreciated.
Leave a reply