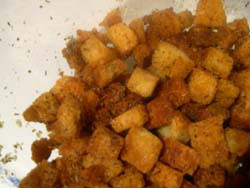 I hate throwing bread away. I have cleared enough space in the freezer so that I can stock up on smaller loaves that will not lurk in the bread bin and get dry and mouldy. I will buy big loaves every now and then as it is the perfect excuse to make these delicious croutons. They perk up a salad, an omelette, a bowl of soup or fill that gap when one ranges through the fridge for that tasty little something.
Before Carol showed me how to make herby croutons, I used to fry a few if we needed them. They were always a bit touch a go. These baked ones are so much better. Bung them in the bottom shelf of the oven when you are cooking something else (then you can feel smug about saving power). Croutons, like most delicious and tantalising treats are very high in fat. But a good crouton can be used sparingly.
They keep for a few days in the fridge in a sealed container. Be warned, do not cook these croutons if they are ready before your supper. I did this tonight and scoffed so many that I didn't feel like eating anything else. Danny is not a salad man per se but will chomp through a large bowl of leaves if it is scattered with these croutons.
UPDATE June 2007
We have discovered English rape seed oil (cold pressed). We supplemented this oil for olive oil and found that it gave the croutons a great nutty flavour. Our croutons turned out much beter using cold pressed rape seed oil.
Carol's homemade herby croutons recipe
Ingredients:
An elderly hunk of white bread (about 14 cm long). Crusts removed.
1 fat clove of garlic (chopped extra fine). Garlic granules (0.5 teaspoonful will do at a pinch)
1.5 teaspoonfuls of mixed herbs or a large (two if a woman is gathering) handful of fresh herbs from the garden (chopped fine)
6 tablespoons of cold pressed English rape seed oil or cold pressed virgin olive oil at a pinch
0.5 teaspoonful of salt
0.5 teaspoonful of ground black pepper
Method:
Chop the bread into 1.5 cm chunks and place in a bowl.
Add the olive oil and stir well.
Add the garlic, herbs, salt and pepper and stir to distribute.
Place on baking tray and bake for 5-8 minutes or until golden brown in the bottom of the oven at 210c (190c fan).
Leave a reply