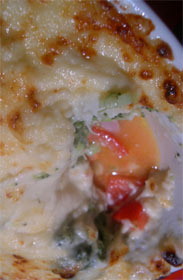 I'm not keen on naked cauliflower but cauliflower cheese has been a staple for years. Somehow dressing the cauli in a cheese sauce and grilling the top transmogrifies the ingredients into something delicious. Or so I thought before I presented my old traditional version to Danny with a flourish.
He wasn't overly impressed.
"Can we have it with baked potatoes next time? It's not really a proper meal on its own. More of a snack."
This was a bit of a body blow. D is very particular about his baked potatoes. His recipe is a palaver to prepare.
So over the years I've titivated my recipe, adding bacon, different cheeses, breadcrumbs. In fact, trying anything that would enhance it. The secret challenge was to create a dish so filling, nutritious and delicious that adding baked potatoes would be ridiculous.
It took quite a bit of ingenuity to gradually convert the plaintive plea for baked potato into an intrigued silence as he tried to discover the changes each time. We have several recipes for cauliflower cheese and it's a dish that I constantly play with. The recipe below is best if you have access to chunks of bacon that you can hack into 2 cm cubes. The fresh tomato and bacon layer brings a freshness to the dish and balances the creamy, cheesy cauliflower and broccoli perfectly. A great supper dish for someone who needs a bit of coddling. Absolute comfort food.
Cauliflower and broccoli cheese with socks on recipe (for 4 hungry people)
Ingredients:
1 small firm cauliflower and 1 small head of broccoli
50g of butter
75g of plain white flour
500ml of milk
200g of mature cheddar cheese – grated
125g of smoked cooking bacon – chopped into chunky 2cm pieces (optional)
200g of fresh tomatoes, sliced and quartered
Salt and pepper to taste
Method:
Start off with your smoked bacon. Chop the bacon and fry over a gentle heat until it is golden brown.
Meanwhile wash the cauliflower and broccoli divide into florets and add to a large saucepan of boiling water. Put the cauliflower in the boiling water and the broccoli on the top as the broccoli generally needs slightly less time to cook. Simmer for about five minutes and then test every 2 minutes until cooked but with a bite. Drain through a colander and set the colander on the original saucepan, in a warm place to drain as you make your sauce.
Heat the butter and, when it has melted, add the flour. Let this roux simmer for a minute or so to get a nuttiness. Add the milk gradually, stirring constantly so that the roux absorbs all the milk before you add the next splosh. In this way you should avoid lumps. When all the milk has been added let the sauce simmer for ten minutes to thicken. (My sauce was very thick at this stage).
Add two thirds of the grated cheese to the thick béchamel sauce and stir until it is absorbed. Taste and season.
Lay the sliced tomatoes in the base of a warmed, large ovenproof dish. Scatter over the bacon and add a third of the cheese sauce. Arrange the cooked cauliflower and broccoli over this and pour over the rest of the sauce. Sprinkle the remaining cheese over the surface of the dish and place under a medium grill for about five minutes to brown.
Leave a reply