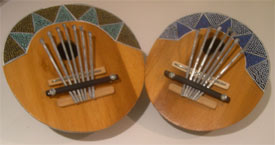 Secretly, I've always wanted to be a rock star. I did play the fiddle and recorder many years ago. Deep down inside me, there's a cool musician just waiting for the right moment to emerge.
This time last year I went away to the seaside with my mother. She repaired to her bed to recharge her batteries every afternoon. I would snake away in Danny's car (we had swapped for the week so my mother would not have to endure the smirks that Jalopy might attract).
In one of Aldeburgh's wonderful shops I found some small primitive pluckable drums, beautiful and decorative. I repaired to my room to test them out. They sounded so good that I took them into my mum's room so she could hear them when she woke for a cup of tea at four. She loved them and her response was the same as it always is,
"Darling, you could make money with this."
But I wanted to play something with a bit more cachet. Electric guitar or keyboards. When I returned home Danny welcomed me back.
"How was it?"
"Great. I discovered that I want to be a musician."
He was astonished. I went online immediately and ordered a mini keyboard, mixing software and a decent microphone.
The kit arrived. As I played and tweaked and mixed, I realised that I needed to be able play the keyboard to progress.
The Charanga Keyboard Coach arrived quickly. This is fun. You attach the keyboard to your computer and you are playing from the first lesson.
You see your progress through the piece on screen as you play. A little tick appears above the notes when you have played them correctly. Starting slowly you gradually build up skills and speed. Danny was patient, as plinked and plonked up through the levels. I loved it. It is cleverly designed so that you sound good from lesson one. The garden was forgotten, meals ran late.
Then I started to write this blog. The focus switched to the computer keyboard and my musical career was temporarily shelved.
Leave a reply