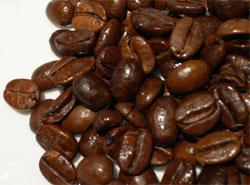 Danny is a coffee fanatic. Up pretty early, he has generally had his fourth cup before I open an eye. Basking in the warm bed I gaze at the large cup of tea that he has sweetened with honey and placed gently beside me before tearing downstairs for his next shot. I used to be the same.
Tottering downstairs I'd make myself three large mugs of coffee. I had a 20 minute bed to front door time frame and a need to drink three mugs of coffee before I left the house. This forced the invention of an ingenious method of incrementally cooling the mugs of coffee. I'd stand two teaspoons in the first mug, one teaspoon in the second and leave the third alone. The teaspoons drew out the heat. By the time I had dressed, the first mug could be downed. When I was buttering my toast the second mug was slurped. The third one was drained just before leaving the house. Perfect.
Once, staying with friends, I was up very early and rushing to get to work. I did the three mug trick and went off to throw on my clothes. Unfortunately the husband appeared in the kitchen and was delighted to find two mugs of coffee waiting on the side. Clearly made for him and his wife by their thoughtful guest. He grabbed them and disappeared upstairs.
Returning to the kitchen in my underwear and socks, all my mugs had vanished. I made another cup and put three teaspoons in it and returned to my room to finish dressing. My revised plan was to dress, pack, knock back the coffee and spring into my car. I raced back to the kitchen only to find my friend's father had dropped by and was sipping the final mug.
Just before Christmas last year I picked up a horrible bug and was laid up for two weeks. When I turned down a cup of coffee on the first day, Danny realised that I was really ill. I didn't have a cup for six months. Even Danny lost heart. Eventually the coffee mill, the family of caffetiéres and the chic stainless steel espresso maker were packed away. He stuck to instant. Drinking 200g of Carte Noire granules a week. Sometimes I'd have a mug, just to keep my hand in.
Out on a limb Danny finally linked up to a group that are keen on their coffee. They have a forum, buy green beans and roast their own. One guy adapted an old gas barbecue, added a rotating cylinder powered by a salvaged windscreen wiper motor, and made an efficient roasting machine. The forum is worth visiting and the link is here http://www.toomuchcoffee.com/index.php
If you are a coffee aficionado this site is worth checking out. There are some amazing photographs. http://www.jimseven.com/
Finally Danny is happily talking coffee again. This has great benefits. A generous coffee expert sent a package bulging with a selection of his own roasts. The grinder and caffetiéres have been dusted down and are fulfilling integral roles. We drank his Brazilian Detera at the end of a lunch party today. Excellent coffee thank you so much Paul England.
Leave a reply