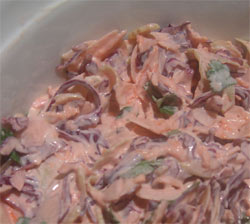 Mike serves his Boston baked beans with coleslaw. I watched him grating and chopping the vegetables by hand. It seemed to take forever. Then he started to add the ingredients for the dressing one by one, straight into the chopped vegetables, tasting every now and then. Mayonnaise, vinegar, sugar, pepper and I missed the rest as I had to rush down to Swan Meadow before Jalopy got a ticket for loitering too long in the car park.
"How odd to serve hot beans with coleslaw." I thought as I shot down Saffron Walden High Street.
I discovered that the combination is perfect. Coleslaw is great with hot or cold Boston baked beans.
So when I made these beans at home, I poked about in our fridge and on the Internet for a few coleslaw hints. I feel embarrassed to admit that I have only bought the chubby pots before. On a whim, every five years or so.
Danny was mesmerised as Magimix
grated and sliced the vegetables in seconds.
"I love finely sliced coleslaw." He confided.
"Mike uses vinegar. Do you think we should?"
"Not vinegar!"
"How about lemon or lime juice?"
"Lemon juice. Lime juice just wouldn't work."
I wanted to ask why not? But as I was planning to add some lovely creamy home made goat's yoghurt to our coleslaw salad I decided to go down the lemon juice route. D fixed himself a large whisky and repaired to The Rat Room.
D is not wild about anything 'goaty', but relishes loads of things with a splosh of "Greek style yoghurt." Unbeknown to him this is often goat's Greek style since I started reading about the benefits of goat's milk on Jo Knight's wonderful blog.
As Magimix efficiently chopped the coriander, I added the dressing ingredients one by one. And tasted and tweaked. The fresh coriander lifted the dish from the realms of a talented church choir to an operatic chorus + Diva in seconds.
Unfortunately the red cabbage created a pink coleslaw that clashed with the orange baked beans. Great for a retro sixties meal. Next time I'll use a white or green cabbage from our own plot.
Coleslaw making could become a hobby.
Coleslaw á la Cottage Smallholder recipe
Ingredients:
100 g of carrot (peeled and grated)
120 g of baby red cabbage (thinly sliced)
2 sticks of 'de-strung' celery (thinly sliced)
1 small onion (sliced fine)
Dressing:
6 teaspoons of mayonnaise
2 tbsp of goat's yoghurt
1 tsp of light brown Muscovado sugar
0.5 tsp of sweet smoked paprika
1 – 2 tsp of freshly squeezed lemon juice to taste
Generous twist or two of ground black pepper
1 tblsp of coriander leaves (chopped fine)
Method:
Grate and slice the vegetables.
Add the dressing and serve chilled.
Leave a reply