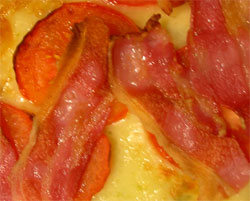 Many years ago I moved into my first London flat. A pretty loft conversion with mansard ceilings and views of roofs, chimneys and unending sky.
I needed transport so I bought myself a reconditioned BSA Bantam with Easy Rider handlebars and swooped around on that. My Mother was horrified and that made it even more fun. The weekly shop was basic as everything had to be transported on my back in a small frameless canvas rucksack. A relic of a past era, designed to carry sandwiches and a map and possibly a change of socks. If it was filled too full it would suddenly shift violently when cornering and upset the balance of the bike.
As the thought of making two trips a week never entered my head, food shopping was limited to seven items. A chicken, a pack of streaky bacon, six eggs, a loaf of bread, salad stuff, a hunk of cheese and a pack of frozen peas. Occasionally I'd take a chance and add a tin of tomatoes or a jar of coffee. By Wednesday the chicken was eaten so I invented this recipe for cheese on toast. This is the first dish that I really worked on. It's still delicious, I put this down to the layer of cucumber that remains surprisingly crisp.
Danny refused to have cheese on toast for supper for years until one day he returned home unexpectedly and was forced to share mine. He ate a mouthful and was apologetically hooked.
Deluxe cheese on toast recipe (for one)
Ingredients:
1 – 2 slices of bread (can be a bit stale)
A length of cucumber the width of the bread (peeled and sliced lengthwise)
1 – 2 tomatoes (sliced)
3 – 4 slices of streaky bacon
Cheddar cheese sliced thinly
Method:
Make a foil plate with small upturned sides to hold the bread.
Put the slices of cucumber widthwise across the bread keeping them away from the edges.
Cover the cucumber with the two layers of the thinly sliced cheese, making sure that the cucumber and crusts of the bread are covered (otherwise these will burn before the rest is ready).
Place the sliced tomato on the cheese and pop the streaky bacon on the top.
Put the foil tray under a very low grill and leave for about twenty minutes until the cheese has melted and spread.
Season with plenty of ground black pepper and a dash of Lea and Perrins.
Leave a reply