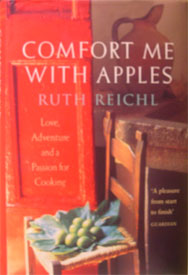 "You'll love this book, Fiona." My friend Anna placed it in my hands and went off to fix us some fresh coffee. I hadn't heard of Comfort Me With Apples
so I took a peek inside the cover. Within seconds I was longing to light Anna's wood burning stove, pull up an armchair and immerse myself in the book for the afternoon. As I'm working at her house at the moment, this wasn't advisable.
This book has been a fascinating companion for the last week. Subtitled ˜Love, Adventure and a Passion for Cooking', this is no girly book. It travels beside me, Cheveley to Essex and back again. It sleeps beside me just in case I might wake in the night. At Anna's, the book lies on Jalopy's front passenger seat, tempting me to step out of the back door every couple of hours and gorge for ten blissful minutes.
I am literally feasting on this book. I am embarrassed to admit that I hadn't heard of Ruth Reichl. She was the restaurant critic for the New York Times before becoming Editor-in-Chief at Gourmet Magazine and culinary editor for Modern Library. When ˜Comfort me with Apples' opens she is living in a communal house and driving a Volvo that could be a distant cousin of Jalopy. A screwdriver serves as an ignition key. We still have a key but this might be a useful tip for the future.
This book charts her early days as a restaurant critic and food journalist. The quality of her writing is superb. When I read what she writes about food I am at the table beside her. I can almost taste the flavours that she describes.
Her reminiscences are a heady mix of food and life. She dives past the flotsam and jetsam that so often distract the best restaurant critics. The book is astonishingly honest and touching, with a wry humour and loads of panache. Ruth Reichl is not the sort of woman to shy away from mirrors. She writes about where she was, who she was with, what was going on in her life and the food. The food always bubbles happily to the surface but the mix tantalises and enhances the enjoyment.
Since I temporarily adopted this book I've been so tempted to forget work for a day. I could ring in sick, finish her book and then drive away to find the best ingredients and attempt to create a similar magic.
I also considered meltdown last weekend. Why not lie in bed with the Min Pins and this book? But that would have been akin to guzzling a great meal. So I've slowly grazed the book, savouring passages and sneaking a forward glimpse every now and then. This experience has been an extended feast.
I am delighted to learn that she has written several books.
Leave a reply