Cottage Smallholder Interblog Guinea Fowl Breeding Event. Update; our guinea fowl are now 15 weeks old and flourishing.
Posted by Fiona Nevile in Guinea Fowl | 8 comments
Back in June 2007 Sara at Farming Friends sent us six guinea fowl eggs in the post to put under our broody hen Mrs Boss. Five eggs hatched out. Sadly, our favourite and the only snow white keet, Lightning, died. The remaining keets are doing well and are now 15 week old. They are now grown up and are young adult guinea fowl.
I am besotted with them. They have started making the raucous guinea fowl sounds when they hear the grain bin opening. Hearing their call, Inca throws herself at the wire of the chicken run.
They are passionate about their morning luxury parrot mix of sunflower seeds, nuts and tasty chilli bits. They hang out together companionably and join Carol at lunch time to lead the flock in the dash for Swiss Chard and dandelion leaves.
Their foster mother, Mrs Boss, has not returned to the bottom of the pecking order. Barbie is still the replacement unfortunate bottom dweller. I always make sure that she gets her fair share of grain in the morning. One fowl has to be at the bottom of the pecking order. That's just how it is.
Meanwhile Mrs Boss hangs out with the guineas. They more or less ignore her now. They move really fast so she is often left behind. They still consider her to be their Mum but they are like teenagers – wanting to be away and flying but occasionally cuddling around her in a group hug. She does look so small and compact compared to them. But she's still a content and happy bantam. The breeding event has definitely changed her life for the better. If you'd like to read the whole story as it is an opera with superb highs and terrible lows, click here.
Guinea fowl look unusual, with their slim bodies, tiny heads and bejewelled features. They have 'quietly' got under my skin and are here to stay. I actually like the caterwauling and their guinea fowl cries. We still do not know how many hens that we have got. We have at least one, as we've heard the 'come home' cry. When we rush to the pen to identify the hen they all quieten in an instant.
I went down to the greenhouse in the dark this evening. All our flock turn in at dusk so the guineas were in the hen house. They must have seen the flash of the torch and heard me thundering past as suddenly there were small chirrups from inside the hen house. A soothing, gentle sound.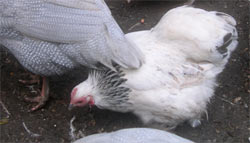 Thank you Sara for giving us such a wonderful present.
Leave a reply