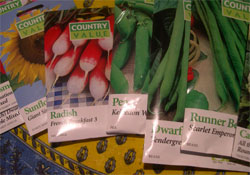 Last weekend I breezed into Netto, the budget supermarket, to stock up on tinned sardines. Danny and the Min Pins love these and at 25p a tin, they're a bargain. Quite often Netto sells plants for the garden. Two years ago I bought a gooseberry bush from them for £1.99. I thought I was buying an ordinary green gooseberry bush, as the box was just marked ˜Gooseberry'. I was thrilled when I discovered that it was a rather special red dessert gooseberry bush. Dessert gooseberries make an excellent liqueur.
Since then I have kept my eyes peeled for other horticultural bargains on forays to Netto . On Sunday I spotted a stand of "Country Value" seeds for 19p a packet. I wondered if they'd be any good at this price and asked a man who was throwing some packs into his trolley if he'd tried them before. He assured me that they were fine. So I bought a few packs and will report back later in the season.
Country Value seeds are produced locally, in Newmarket. The range in Netto was small but I found most of the vegetable seed that we need for the kitchen garden and the flowers that I grow each year (cosmos, sunflowers and marigolds). nine packs for just £1.71. Unbeatable value.
Update: I might have saved a lot of money but was not impressed with these seeds. Producing poor harvests overall.
Leave a reply