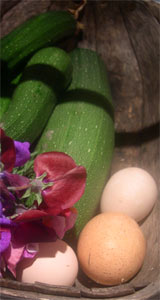 "Is this from the same plant as that one."
Danny held up the small courgette and its older brother that I had overlooked and was travelling rapidly towards becoming a marrow. He weighed the two in his hands and glanced at me.
"I think that we are on the brink of a glut."
The trug had never been weighed down with courgettes before. So initially tiny hands clapped with glee.
The chicken poo enriched compost had worked like a dream.
Yesterday I was wondering what we could do with them all. They lay in a long tranche in the coolest part the kitchen. Green, crisp and delicious and willing us to eat them.
Home grown courgettes, like cucumbers, taste delicious. They're completely different to the commercially grown ones. In fact they taste so different that you might think that they were a new super veg. We don't like woolly, commercially grown courgettes normally but we love eating ours and growing them can be fun too.
There's a tempting recipe on Joanna's food for a raw courgette lemony salad with pine nuts that I spotted last year. We couldn't try it as the stems of our courgette plants rotted in last summer's rain. Now I'm tempted to make Joanna's recipe with the smaller ultra fresh courgettes from one of our giant specimens.
"We can stuff the bigger courgettes. Like the ones that we loved in Italy. Nothing will go to waste. You never know, we might be able to make courgette wine."
I ventured onto the popular allotment forum looking for a wine recipe. Suddenly we don't have a glut anymore. And there were also loads of good ideas for non wine drinking courgette glut victims.
Leave a reply