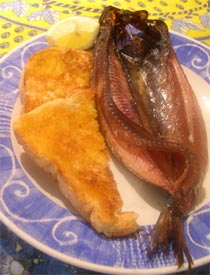 It was years before I twigged that kippers are smoked herrings. I've never been keen on herrings but I'd attempt a cartwheel in return for a couple of kippers. It would have to be two kippers. When it comes to a kipper you just can't share.
We have Craster Kippers for breakfast on a Sunday. This is the most relaxed breakfast of the week. Comparing notes over the newspapers and savouring every gram of flesh from our kippers. The dogs enjoy the skins.
Over the years we have tried many different kippers and consistently the Craster Kipper is rubber stamped as the tastiest kipper in the U.K.
In fact, a few weeks ago Danny announced that if I couldn't buy Craster Kippers he would rather have muesli. This is chomped every other weekday, as it is good for his heart. So it's Craster from now on.
The biggest company to cure fish in the UK is L. Robson and Sons. Based in Craster on the Northumberland coast, this family run business has been smoking fish for over a hundred years. They use the traditionally oak smoke method to cure herring, salmon, haddock and cod. They supply Waitrose and occasionally the Queen.
You can buy their smoked fish through their online shop. Unless you are buying in bulk, Waitrose prices are quite competitive compared to the online shop. A couple of kippers at W cost about two pounds.
The kipper season in the UK used to be from May to September. I can vaguely remember my Mother's shriek of joy when they were back in the shops again. In the seventies, the government banned herring fishing in the North Sea due to depleted stocks. Many fish smoking businesses went to the wall but the Robson's survived. They have expanded and now supply smoked fish all over the world. These days, kippers are available all year round as they are sourced from further afield.
Sometimes someone asks me how to cook the perfect kipper. Hot smoked kippers are already cooked so all you need to do is warm them through. The L. Robson site recommends the jug method. Fill a large jug with boiling water, and put the kipper in head first with the tail above the surface of the water. Leave for six minutes. We prefer to grill them (130c) for eight minutes, and serve them with hot buttered toast and a squeeze of lemon. Absolutely delicious.
Leave a reply