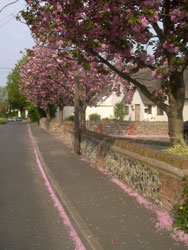 About twelve years ago I visited Christopher Lloyds' garden at Great Dixter. An amazing, inspirational place.
It was around this time of year when everything is buzzing in the garden. I turned a corner and saw that the ground was strewn with large cerise petals. The scene was stunning.
These had fallen from a large Camellia planted in a border set within York stone. The petals looked wonderful against the grey stone. Far better than the waxy flowers on the shrub.
I enjoyed these pink petals when I saw them on the road this week. I was rushing, parked Jalopy and dashed to work. A few frenetic days later, I looked up to find their source and saw that they had come from a row of ornamental cherry trees. Very pretty but the freedom of the blossom on the ground won.
I remembered the Camellia at Great Dixter and wondered why, having seen the Camellia petals, I have never looked beyond the size, leaf shape and colour of flowers when I buy a shrub.
Fallen petals can have dramatic effect.
Leave a reply