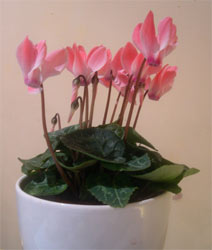 When I went down to Mike's house in Saffron Walden ten days ago, the garden was full of small groups of cyclamen. I don't know whether they had just been planted or were an early flowering variety.
His house is just off Castle Street in a small enclave of four Victorian houses. Set in a pretty communal garden that theoretically belongs to Mike's house but is shared by all the residents.
Mike scored instant brownie points on his arrival as he owns a lawn mower and the other residents no longer had access to one. He scored double brownie points when he announced that he was happy to mow the lawn but was not interested in gardening. The wife of the tall quiet man two doors along was visibly relieved as her husband loves tending the garden. It consists largely of a long border packed with flowers and treasures. It is a beautiful quiet haven. Sitting beside the border, it is hard to believe that the garden is in the centre of a busy country town and only 20 yards away cars are thundering up the road and vying for parking spaces.
On Sunday my mother arrived at our cottage and presented me with this cyclamen.
"It only cost 99p and can be planted outdoors when it goes over! This plant will spread and spread. I am sure that I planted some in the garden for you years ago. They must be quite a big group by now."
I crouched low. Yes they had spread until we put a shed over their border and in all the excitement, forgot all about the cyclamen. Never mind. We can start again. Cyclamen can tolerate the dappled shade of a shrub, tree or hedge.
The trick for making them thrive indoors is to stand them in a saucer or cache pot and only water them from the bottom of the pot. The soil needs to be moist but not saturated. Some of the bigger houses that I work in will have a large bowl holding six or seven pots. This looks stunning. Cyclamen like cool temperatures but also bright light. Our kitchen windowsill is cool but south west facing so is an ideal spot for cyclamen at this time of year.
Leave a reply