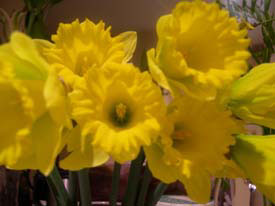 The house where I'm working is set in farmland. A beautiful place, with a moat and five bedrooms. A pair of ducks circle the pond and drift up and down the water. When I open the back door, small shy moorhens rush for the cover of the reeds. After dark I can hear the nervous cackle of pheasant roosting in the trees and the cry of owls.
Set within a circle of trees and surrounded by farmland, the location is a haven for wildlife. Today a kestrel drifted for five minutes above me, riding the thermals with just an occasional flick of wings. The daffodils had just started to open when I arrived this morning two or three large drifts. Probably a thousand heads will open over the next weeks. Anna gave me these to take home.
When Jalopy and I chugged up the drive on Monday I was greeted with shrieks from Anna's daughters.
"They want to know if you will be able to guess what happened over the weekend." Anna explained.
I was led into their sitting room. I couldn't spot a change. I turned to Isabella (age 4) for help.
"An owl flew down our chimney."
Wide eyed and serious, she pointed to the smutty smudges on the ceiling. On closer inspection I could see that these were the imprints of wing feathers. Fleeting and soft. There was even an owl shaped impression, outlined with a feathery fuzz.
"We caught him and christened him Oscar," added Madeline, eight years old, going on twenty five (she always inspects my work carefully when she returns from school and makes encouraging noises).
Surely they hadn't kept the owl.
"So where is he now?"
"We released him."
"Out of the window." Issy, arms held out swooped towards the light.
"It's alright Fiona, he's back with his family." Added Maddy.
That afternoon I was sitting alone at their table, sipping a mug of tea and my eye was caught by a handmade card. A folded over sheet of A4 paper. The top had a line of kisses followed by a stretch of hearts. Under these was a larger heart, coloured in carefully. Beside this a fantasy insect with curly horns and an owl like shape with a human smile. Intrigued, I opened the card, Maddy's curly writing looped across the page,
"Dear Oscar, I love you."
It must have been a wrench letting him go.
Leave a reply