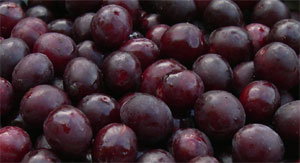 The Tesco Basics range includes a pack of twelve champagne glasses. These are really tough, made to last. I'm sure that they'd survive being flung across a room. We haven't tried this yet with these particular glasses. We just use them for parties and occasionally we bung them in the freezer to hold granita.
Granita is a massive, seven league step away from a traditional sorbet. Danny describes a good granita as spoonfuls of iced heaven.
It's a cinch to make. You don't need an ice cream making machine to shine with this dish. Granita is so special that a tablespoonful in a cheap Tesco flute will have people pleading for more.
If you don't use alcohol in this recipe, the end result will be more of a sorbet (still bursting with fruit flavours). The alcohol stops the mixture from freezing completely and combines with the forking to make pretty flakes of ice. We use kirsch in this recipe and the alcohol does make an amazing difference.
Wild plums are a good substitute for damsons, due to their sharpness. We serve granita at the end of a rich meal in the winter and anytime during the summer.
Damson (or wild plum) granita recipe for six
Ingredients:
1lb/454g of damsons or wild plums (these are sharp and more like damsons than garden plums that would be unsuitable for this recipe).
½ lb/227g of granulated sugar
The juice of one large lemon, or two small ones
4 tablespoons of Kirsch (you can substitute vodka or gin but kirsch has the edge).
Method:
Place the damsons in a saucepan with water to cover half the fruit. Simmer very gently until the fruit is soft and mushy. Stir from time to time.
Strain off the liquid and reserve.
Press the damsons through a coarse sieve. This will remove the skins and the stones.
Pour the reserved juice into the sieved damsons to make up 1½ pt/725 ml of juice.
Stir in the lemon juice.
Pour the damsons juice into a saucepan, add the sugar and heat gently, stirring occasionally until the sugar is dissolved.
Remove from the heat and add the kirsch when cool.
Pour the juice into shallow metal trays (or plastic containers). Maximum depth of juice ½"/2 cm and place uncovered in the freezer.
After an hour, fork the crystals that have formed on the outside of the trays into the middle. Continue this operation every half hour or so until you have a tray full of damson crystals.
Serve sparingly in iced glasses.
If you are not going to eat this immediately, gently fork the crystals into a container with a tight lid to store in your freezer.
Tips and tricks:

My granita is a frozen lump, what do I do?
If you wander off and forget about your damson granita, don't worry if it has frozen into a giant ice cube. Just take it out of the freezer and leave for five/ten minutes before raking the surface with a fork and putting it back in the freeazer.
Where can I buy kirsch?
Kirsch can be hard to find. Not every supermarket stocks it. We get it from Waitrose where they sell it in small hip flask bottles. A lot of our friends bring it back from France where it's much cheaper. A splosh of kirsch is great in a fruit salad and it's the secret ingredient of the perfect Swiss cheese fondue (my Mum kept a bottle of it in the 70's, just for fondue!).
Leave a reply