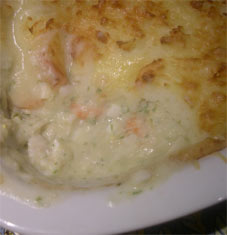 A few months ago a local caterer and superb cook was spotted buying a Waitrose fish pie. When she was asked why she was buying one when she could easily run up a pie herself, her response was clipped.
"I just couldn't make it for the price."
The story did the rounds in Newmarket and presumably Waitrose fish pie sales soared.
Fish pie is a rare treat as fish is so expensive these days. But with a little patience and forethought you can enjoy a great fish pie for a fraction of the price. Every now and then I shop at Waitrose on a Sunday, half an hour from closing time. Their fish is the best in Newmarket and quite often they have massive reductions. All too often the person ahead of me sweeps the board clean but if I'm lucky I buy fish for the freezer. When I have squirreled away enough fish, I make a pie.
I reckon that an essential ingredient is some traditionally smoked fish. This gives the dish depth. I am loathe to add olives, capers, cornichons. I am a traditional fish pie addict. I want clear fish and seafood flavours. The other fish and seafood that you add can be a mix of anything that appeals.
I reckon that you need about 500g of mixed fish/seafood for this pie. If you make a thick béchamel this pie freezes well.
Deluxe fish pie recipe (for four hungry people)
Ingredients:
250g traditionally smoked undyed haddock fillet
225g fillet of cod
A large handful of cooked prawns (if you are using uncooked prawns add them to the milk when you add the fish)
A large handful of fresh parsley – chopped
500ml – 600ml of milk full fat milk/80g plain flour/60 g butter (for the thick bechamel sauce)
4 hard boiled eggs, quartered
1-2 tsp of anchovy sauce
Lashings of freshly ground white pepper
Topping
450g of potatoes
25g of butter
2- 4 tblsp of milk
2 dessert spoons of creme fraiche
50 g of mature cheddar cheese (grated)
Method:
Well in advance hard boil your eggs. Peel your potatoes and put them on to boil, when they are cooked, drain them and set them aside in a warm place . Pour the milk into a saucepan and add the fish. Bring to simmering point and let the fish cook gently in the milk for about 6 minutes, add the prawns and cook for a further 2 minutes. Strain and reserve the milk to make your bechamel. Flake the fish and set aside in a warm place. Melt the butter, add the flour and gradually add the warm milk, beating to avoid lumps when this has thickened stir in the chopped parsley, garlic, anchovy sauce and carefully fold in the fish and cooked prawns. Pour into a buttered pie dish and arrange the eggs on the top. Leave in a warm place whilst you prepare your mashed potatoes.
I used a ricer to make mashed potatoes. This speeds up the process and guarantees no lumps. Then I fold in the butter, milk and creme fraiche. Spoon the mashed potatoes onto the fish and eggs, scatter the grated cheese over the top and brown the pie under a low grill for a few minutes until the cheese is bubbling.
A light crisp leafy salad goes well with this dish, with a lemon and olive oil dressing.
Leave a reply