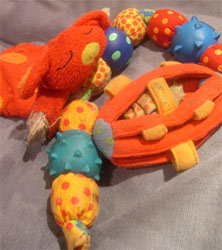 At the end of the church fete my aunt would nip over to the toy stall and buy a selection of knitted dolls for her Pekingese dogs. She never admitted the prospective future of these dolls to the old ladies who had knitted them and twinkled and bobbed, delighted to have made a sale. Generally the dolls lasted for about a year just in time for another foray to the stall.
An abiding memory of those days at my aunt's house was watching a small black Peke, knitted nurse doll in jaw, strut towards a nervous visiting doctor.
The Min Pins love their toys. We followed my aunt's lead until the cottage kitchen started to resemble the knitted dolls A&E from hell. The Min Pins having become adept at removing stuffing and limbs.
When we bought Inca almost two years ago, I went to the pet shop to find some toys to amuse her. Most dog toys are ugly galumphing things designed to be tossed to pony sized canines.
I found the Petstages range of dog and cat toys. This range had toys for every size of dog. They are well designed, tough and attractive. I controlled myself and only bought three.
A little pug (Petstages Puppy Cuddle Pal) that would be company for her at night (she slept in a large cage well away from The Contessa's jealous jaws). She has played with it ever since and loves tossing it in the air and catching it mid flight.
The sturdy chain of bobbles which was great when she was teething but to be quite honest is now is largely ignored
A little cage ball (Petstages Jingle Cage) which amused The Contessa for months until she eventually managed to extricate the bell from inside the ball. Inca still pays with it minus bell. 60% success rate 2 years down the line. Pretty good.
If you have a new puppy or dog and need some decent toys I would highly recommend the Petstages range. Our toys have been played with endlessly and although they are a bit tatty after 2 years I wouldn't throw them out as they give Inca so much pleasure.
The Petstages range is available from most large pet emporiums and on line from Amazon.
Leave a reply