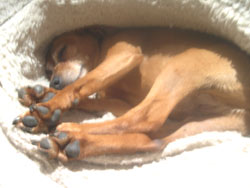 Last night I returned from work and found the dogs squabbling. I suppose our three and Great Aunt Daisy Beatyl make up a pack. A flock of hens can be tricky to manage but a small pack of dogs can be a nightmare if you are tired and just want to chill. If they are not dozing in their baskets they are sorting out their pecking order. Inca, the youngest, challenges each dog in the pack regularly. It is not restful.
Yesterday The Contessa growled and snapped for far longer than usual. The key dog beds are two small cat igloos that sit under the table. Eventually I knelt down to investigate.
The Contessa was protecting her kill.
A large rat was lying beside her. Belly up. Thick tail protruding from the dog bed. And she was eating the guts of the rat.
Danny eventually removed the rat. After a bit of a tussle. The Contessa flew about the kitchen, rat in jaw until D lost his temper. The rat fell to the floor and every living thing retreated to a safe pace including me.
I Googled "dog ate poisoned rat" and found this article just as The Contessa was violently sick. Hopefully this was the cure. She drank loads of water and eventually settled. According to the article if your dog happens to eat rat poison it should take a few days to materialise. Last night I considered ringing the 24 hour locum vet. This morning The Contessa was so perky I reckoned that she was fine. We are watching her carefully.
We must kill hundreds of rats a year by putting down poison. If a dying rat is killed by the Min Pins they would savour the tasty bits without us knowing.
I reckon that the dog in the article ate pure poison. In the past, Rat Catchers have assured me that a poisoned rat eaten by a dog will not kill the dog. Now I'm not so sure.
Leave a reply