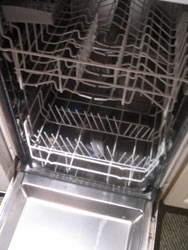 I have a soft spot for Graham. He fixes our cooker, washing machine and dishwasher. I trust him. He has tinkered and fixed our stuff for years.
He trained as a TV repair man. Electronics were his world until everything changed. TVs got cheaper and were just jettisoned when they died. So he switched to domestic appliances. He is the best guy to know when the honeymoon warranty period is over and things start to go wrong. Today I found out that he is also the key man when things go wrong within the warranty period.
Our dishwasher must be at least five years old. It sprang a leak last week and was taken away to his hospital in Burwell for four days. I was amazed to see exactly how much washing up we generate each day. With a miniature sized sinkette, we had to dry up between stacking the draining rack. Generally three times after supper.
"It was like the retreat from Moscow." Danny blurted out as he fell into bed.
The dogs felt the impact too. No plates and pots and pans to lick clean. Each evening they stood in an expectant row and watched us as we grimly stacked everything on the worktop. By day three they had got a bit crouchy, not understanding what they'd done wrong.
This morning I used the same mug for tea and coffee.
When I lifted the blind today and saw a strange car in the drive with a large white block in the boot. I chased the dogs into the back garden and opened the front door wide.
Graham is a bright spark and a great raconteur. As he lifted our workhorse over the step we swapped news.
"How's business?"
"Really good. How about the world of decorating?"
We exchanged stories over cup of coffee. Graham's business has recently expanded massively.
"It's all down to China."
I was curious and discovered that most manufacturers are getting their components manufactured in China now.
"They're cheaper and appear exactly the same but the materials are not so good."
"How do you know?"
"The manufacturers' warranty only requires them to call out within 30 days if the machine breaks down. Then they are legally obliged to repair it within six months of the call out. Most people can't wait that long. I'm called in after a few weeks. Pumps that would have lasted six years in the past are faulty within months these days. You can buy a dishwasher for ?200. People are buying them and fixing them once and then tossing them away. Even Miele are getting their pumps made in China."
We bought a Morphy Richards kettle a few months ago from Tesco. I didn't think to keep the receipt. The natty flip up lid froze after a couple of months. We can't open it – can't descale it. And with no receipt, we can't return it. After Graham left I lifted the kettle and examined the labels. Made in China.
At Einat's house I was using a 30 year old kettle and it worked fine. I tossed away a similar one 15 years ago and for a long moment this morning regretted my foolishness. Hindsight is such a smug creature.
Graham told us to hang on to our dishwasher.
"Yours was actually made in Germany. It should go on for ages and is definitely worth repairing."
But where did our new pump come from? I didn't think to ask.
Leave a reply