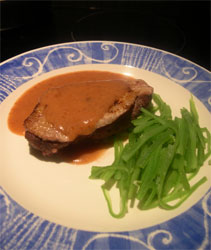 I spotted some large French duck breasts at Fred Fitzpatrick's butcher's shop on Saturday. As all his meat is excellent I bought a pack as a treat, feeling a bit guilty about the air miles. I was going to make our lazy duck in apricot sauce recipe but when I saw some large plump fresh plums in Tesco I changed my mind. I had to ignore the air miles yet again and resolved to bottle some of the local wild plums and bullaces in the autumn to use as sauces for duck and pork. They are tart and perfect for this recipe.
I decided to make a sauce without wine, which is my trusty assistant at the experimental stage of a new recipe. I was surprised that the plum sauce was fantastic without it. The duck fat gives it a sheen and softness that perfectly balances the fresh, tangy fruit flavour. The soy sauce is not discernable but is the secret ingredient. It adds depth and pizzazz.
This dish is quick and easy to make and perfect for a supper party or Saturday night treat. By roasting the duck breasts on a nest of plums, they remain succulent. The small ovenproof dish is the other essential element (ours is 17.5cm wide and 5cm deep). A roasting tray would not work because the plums need to sit under the duck and these would splay out and burn. I reckon that roasting a duck in a bag with the plums and other ingredients would also work well. Meanwhile, why not try this dish and wow your beloved.
Duck breasts with a fresh plum sauce recipe (for two with a decent amount of sauce)
Preheat oven to 220c (200c fan). Cook for fifteen minutes and then ruduce to 180c (160c fan) for 30-40 mins
Ingredients:
2 large duck breasts
400g of ripe dark plums
2 tbls of water
2 tsp of soy sauce
Salt and pepper to taste
Method:
Select a small ovenproof dish that will hold the sliced plums and the duck breasts snugly.
Remove the stones from the plums and cut them into chunky slices. Lay these in the bottom of your dish.
Add the water and soy sauce.
Place the duck breasts on top of the plums. Skin side up so that it will brown.
Put the dish in the centre of the oven to roast for 15 mins 220c (200c fan) and then for 30-40 mins at 180c (160c fan).
When the breasts are browned and tender set them aside in a warm place and liquidise the sauce with a hand blender.
Runner beans were perfect with the dish. I had made mini roast potatoes but new potatoes would have been much better.
Leave a reply