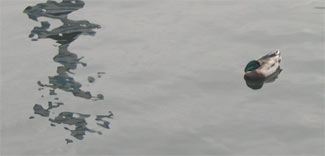 It won't be long before wild Mallard ducks find our pond again. They see the long stretch of water and swoop in. It must seem the perfect spot. A generous pond with a good supply of goldfish and frogs. A safe and secluded haven for a pair of ducks to nest and raise a brood of ducklings.
Perfect without the Min Pins.
These are hunting dogs and our pack work as a team. Running at speeds in excess of 23 miles an hour a waddling duck wouldn't have a chance. I try to avert disaster and actively discourage ducks in our garden.
As soon as I realise that a pair are viewing our pond with an eye to a short term let, I grab our golfing umbrella and rush down to the pond. The ducks are not keen on this red and white stripped harpy with legs and there is instant lift off. I hear them quacking as they flap over Anne Mary's trees. Ducks are determined creatures; it can take a few days of twirling umbrellas to get them to leave forever.
Last spring I discovered a pair of wild Mallards swimming in our pond. With one twirl of the brolly they were off. The next morning they were back. I crept down to the pond and opened the striped monster with a roar. The drake rose from the water and never returned.
I couldn't scare away his abandoned wife. A determined sitting tenant with nerves of steel. I observed her sunning herself beside the pond. If she heard the thunder of Min Pin paws she would slip into the water in a trice. Bobbing about, just out of reach of the Min Pin jaws.
As the days went by I tried every conceivable way to get rid of her. She remained unfazed by loud noises and flapping sheets. She took sharp blasts of water from the hose in her stride and seemed to enjoy the shower.
In desperation, I even tried talking to her. She would stare stonily back at me and circle the pond.
Was this a duck version of Mariana in the Moated Grange?
We gradually became attached to this resolute creature and named her The Duck. After a couple of weeks we woke to an empty pond. Had she finally left?
Picking some salad leaves in the kitchen garden I suddenly noticed her limp body in the long grass. When I picked her up she was still warm.
Had the Min Pins killed her or had she died of a broken heart.
Leave a reply