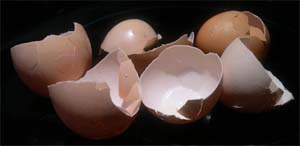 The pile of eggshells on the top of the cooker after breaksfast this morning jangled a distant memory. My mother kept a pot beside the cooker for eggshells years ago. She just tossed them in without rinsing. I can see her now, pressing them down and still hear the satisfying crunch as the eggshells were crushed. The pot was quite big, about eight inches high. When it was full she would scatter the broken shells at the base of her rose bushes as a fertiliser.
We tend not to put our eggshells into the compost as they are known to attract rats, so generally they are chucked out with the other rubbish but it seemed such a waste. This morning I decided to save our shells Ã? la mum. They are high in calcium carbonate. They will be a well seasoned free feed for the roses by the time they reach the flower beds. I'm also going to use them in the kitchen garden.
I've found a self sufficiency site that outlines how to make fertilisers for your garden. They dry eggshells in their gas oven by the heat of only the pilot light and make into a powder for top dressing in their coffee grinder. They use crushed shells as a slug repellent and coffee grounds as a light top dressing for plants like blueberries that like an "acid" soil. There is also a photo of the author's pot bellied pig for you to enjoy.
http://www.backwoodshome.com/articles/nyerges44.html
I had a poke around for a suitable container and found a ceramic Thornton's toffee jar that has lurked in the cupboard for years. I knew that it would come in handy one day (D is grinning broadly) and it has the added bonus of a lid.
Leave a reply