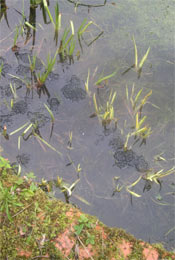 It's the first day of spring!
The frogs must have known this. Our annual bacchanal had started in the large pond when I went down to feed the chickens on this cold and blustery morning. Six couples were clinging on and having fun. And then I spoilt it all by appearing with a large camera and small black and tan Min Pin. All frogs submerged as one. Still attached.
I didn't know that it was such a special day. I love frogs but still don't speak their language despite living alongside them for 16 years. Two superb, upbeat blogs gave me the nudge. NÃ? 's Shadow's and Clouds blog from the heart of Italy reminded me this morning and this evening Louisa's Faerie Nuff blog.
I'm listening to Louisa's selection of music as I type this. I instantly warmed to the list when I spotted Harry's Game (Clannad).
When I have the time I love clicking through to the sites of people who leave comments on my blog. The journey is never bumpy and often I find blogs to treasure. Both these blogs are beautifully crafted places where I escape when the walls are starting to close in.
These blogs sparkle with energy and light and pure, fresh air.
Meanwhile our frogs are enjoying themselves. I opened the back door just now and heard a cacophony of croaks. I couldn't resist creeping down to the pond with a torch (22.00 hours). Judging by the frog count per square centimetre, every invitation has been accepted to the Annual Frog Fest in our pond. Choppy water and chilly winds clearly do not deter party going and procreation. Not a single frog looked up and demanded a hottie.
Leave a reply