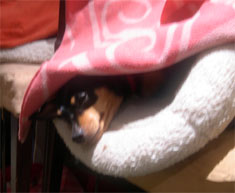 Most nights I tuck the Min Pins and great aunt Daisy Beatyl into their beds. We have a lot of rugs. Mainly Barbie rugs, cut from the blanket that I bought just before we collected Inca. Sometimes I unearth one of the starter rugs – the size of a facecloth – it's easy to forget how small she was at seven weeks. Easily wrapped in a 6″x6″ cloth.
The response from the dogs is variable. Inca and The Contessa snuggle firmly into their hat shaped baskets. These sit on chairs, out of the draughts. A small cuddle and tummy rub usually suffices and a blanket dropped over the entire bed will stay in place until the morning. I have to attend to The Contessa first. Inca is curious and will throw off her blankets if she thinks that The Contessa is getting more attention than she has been given.
Even if she is second on the list, I have spotted that she wants to observe what is going on under the table. This is where great aunt Daisy Beatyl and Dr Q hang out. These dogs can no longer leap into a bed on a chair. They sleep in warm igloos on the floor. Both dogs adore being wrapped in blankets and tend to play so as to extend the wrapping process. The under table baskets are a great quiet place to snooze in the day. But in the evening the dogs on the chairs tend to get lots of passing trade and the ones under the table are easily forgotten.
There is a great scheme that is bobbing about in the blogosphere at the moment – Pay It Forward. 'The premise of Pay It Forward is one that any person can implement in his or her own life, at any time. It begins with doing a favour for another person– without any expectation of being paid back. Indeed one would request that the recipient of that favour do the same for someone else: ideally for three other people. The unconditional favours can be large or small. As the author observes: it doesn't have to be a big thing. It can just seem that way, depending on whom you do it for.'
The above excerpt was taken from the Pay it Foward UK site . I have participated in the scheme on two blogs Little Foodies and Shadows and Clouds. So this is my first Pay it Forward post and the second one will appear over the next few weeks.
The first three people to leave a comment on this post will receive a small handmade gift from me before Spring. All that I ask is that you continue the scheme and offer a similar treat to three other bloggers.
Leave a reply