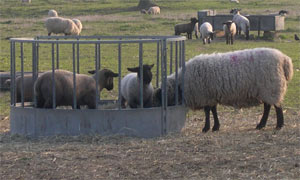 I can't believe that it's midsummer's day today.
Gentle Irish rain on and off all day. And I've been alone for most of it.
Working on a big estate, a large house and a few cottages set in massive grounds, I often see no one but I do have animals and wildlife for company. And that's to be treasured.
The lambs are getting quite chunky now. I've watched them on an off for the past six weeks or so. Today they were much more independent. Splashing each other at the water trough. Playing like puppies. Tearing across the paddock until finally they sense that they have strayed too far from their mothers and they snake back searching for the ewe that will glance up and nuzzle them when they return.
It must be such a wrench when the lambs finally go.
Some friends had a garden that backed onto meadows where sheep raised their lambs. When the lorry finally arrived to take the lambs the dismayed ewes would call out. Long, distraught cries that continued day and night for a couple of days. It was an awful sound.
A man raises beef on the estate where I was working today. He takes just a couple of calves away at a time to soften the wrench. A thoughtful practice but I suppose the cost of the lamb lorry must be big. It just wouldn't be feasible financially just to take away a few at a time.
So this evening, when I leant on the paddock fence and watched the lambs play, the moment filled with fun and life and affection was truly bittersweet.
Leave a reply