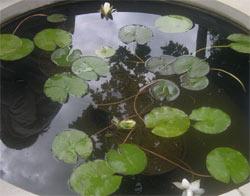 Everyone occasionally meets an exceptional person. These do not have to be Nobel prize winners. Truly special people are scattered liberally across the globe. They are not necessarily those who raise thousands for charity every year. They can be women or men who lead a backwater life. You know if you meet one. You can't stop thinking about them. They affect your life in a quiet way.
These are the people who influence deep changes in your life but they probably never realise their impact. Their lives reverb. They are not hungry for fame and don't run courses or lecture or sell their secrets. It's just that they have a found a good balance and are complete and rounded as a pebble that you pick up on the beach.
You take that pebble home because it looked right and felt good when you held it in your hand. With a pebble, it's so easy to lose that pebble/sea sound moment. With people it's different
Brad Rising was a man that I met briefly in my twenties and has had a deep influence on my life.
When I met him in Deya, Majorca in the late seventies I warmed to him. The next year I liked him even more. Then I visited the island with a boyfriend and didn't look him up. I didn't see him again.
Twenty five years later I often think of him. Particularly when life starts to get a bit too busy and frayed at the edges.
He was in his early sixties when I first met him. Slim, American, and possibly the gentlest man I have ever met. At that point and divided his time between America and Majorca. Six months in each.
I thought his life was weird at the time. Gradually, over the years I began to understand.
In America he would take a day job. He would rise an hour earlier than he needed to, just to have sometime when he could indulge himself, play his guitar and feel that he had a good quality of life. Then he would beaver away. Walking to work, eating his own sandwiches and saving everything that he could to fund his six months in Deya.
When he got to Deya he would eke out his funds and concentrate on his writing. He used minimum electricity and resources. I often remember seeing him pickup a large bowl of water from the lawn.
"This is my water for washing." He explained. "I fill a large shallow bowl in the morning and put it in a sunny spot. By evening it's warm enough for a shave and wash."
I was astonished. Now I wish that I'd asked more about his life. I doubt that he had a fridge as his food was stored in a large, shallow basket that hung from the ceiling. It looked very pretty but was a practical way of keeping the food out of the reach of rats. And the food was simple – some fruit, cheese and bread.
I remember walking with him in the woods and stopping to visit a house built around an open central courtyard. This house belonged to farmers. Three generations lived there. Two little girls played hide and seek while a toothless granny shelled peas into a large bowl. In a side room an old man sat on a settle beside a roaring fire. Brad chatted to him in the local dialect. The fire lit the room.
Back then I though that frugal living was the life of baddies like Scrooge. Now I understand that Brad was practicing frugal living. His was with joy. It meant that he could live his dream for at least six months a year.
He was never stingy, just careful with his money. He was a very special man.
This afternoon I decided to find out what had happened to him. Had he been published?
I discovered that he had sold some of his writing and eventually lived permanently on the island that he loved. I also found out that he'd died a few years ago. It was l a shock to learn he was gone. People like Brad Rising should live forever.
In this small corner of England he's alive.
Leave a reply