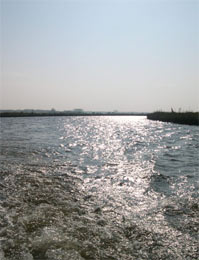 Sometimes I have a bad day. I've stayed up too late and slept badly. The Min Pins keep their distance, tired too from a night in a bed on a stormy sea. In the morning I scurry around making their breakfast and sorting out the chickens. Munching toast from Jalopy's long dashboard, I corner carefully and prepare for the worst. Bad nights often mean a tricky day at work.
As a decorator, I can't hunch at a desk and pretend that I'm working. It's all about being lively and producing truly visible results. A small flask of coffee gets the adrenalin rushing and I work at fever pitch all morning but by four pm I'm staring out of the window, longing for freedom and space.
Sometimes I'm lucky enough to remember Malcolm Monteith's wise words and get on with the job in hand. Often I forget and it's only when I chug towards home that the wisdom filters through.
I met Malcolm in a tobacconist on London's Kings Road, Chelsea, just around the corner from the road where I lived with Smart Wife and Kind Husband. It was in the mid 1970's. Malc was an amazing man. Full of fun and the sort of wisdom that comes with age and the experience of living just beyond the fast lane.
I later discovered that his trips to the tobacconist were to buy a pack of ten unfiltered Players cigarettes for his wife Cis. She used to smoke the final centimetre using a pin. They had fallen on hard times and she supplemented their pension by repairing Edwardian clothes in The Chelsea Antiques Market, so a pin cushion was always to hand.
Despite the setbacks, this intelligent and flamboyant couple appeared to surf the bad times and enjoy any lucky break that came their way. They lived over an "ordinary" greengrocer's shop when Chelsea was still a good mixture of race and incomes. Their flat was pretty basic with a pervading odour of rotting vegetables. Now it has probably been replaced by deluxe flats for the discerning elite. The shop below possibly sells antiques or handmade chocolates.
In his prime, Malcolm had written articles for the popular UK weeklies in the 1950's, Picture Post and Lilliput. When those disappeared he moved on to writing for other publications but they just weren't the same for him. Like us, he'd have enjoyed the wit and sparkle of The Oldie magazine. But it was conceived long after he moved on to edit the best weekly in the sky.
I loved this couple. Forty years older than me, they were a real foil to the muddled miasma of my mid twenties life. They had a certain springy calm that I still envy now.
Sitting in a raucous smoke filled bar one evening, Malcolm peered at me over his pint and announced.
"If only – are the saddest words in the world."
The best advice that I've ever been given.
Leave a reply