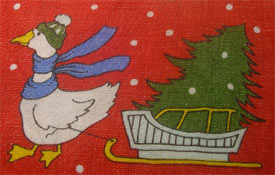 My sister's bedroom door was ajar. She had just started school and was closeted with her new friend, May Ashmore. Two years younger, I was feeling the age gap. Sara was five and out in the world and I was stuck at home. I hated being excluded.
When I quietly opened the door my sister spun round,
"This is a private conversation." The tone was sharp. And they looked complicit.
I crept away but hovered in the corridor, intrigued by the whispers.
May Ashmore had come to tea. At the table Sara's new friend had announced that she was beautiful. I believed her and studied her carefully. Eventually after the whispering epsiode her mother arrived in a car to collect her. Only one family in our road had a car.
Finally alone with my sister, I badgered her to reveal the "Private Conversation."
"You are too young."
"No I'm not."
"If you knew this fact it would spoil things."
"What things?"
"Well, Christmas."
How could anything spoil Christmas? Even a fact. I continued to needle. The more I was rebuffed, the more I was determined to know. I pestered and cajoled – just couldn't rest. Finally exasperated she turned to me.
"If I did tell you, you'd have to be very grown up about it and not respond like a three year old."
I assured her that I wouldn't.
"You are going to hate hearing this. "
"I won't. Pleeeease tell me." I'd love it if she shared the secret.
"You are not allowed to cry or ever tell Mummy."
Now I wasn't so certain. But I needed to know.
"I won't tell Mummy."
Looking back I feel for my sister. Children don't want to lie to each other about important things and she must have been upset herself. She looked me straight in the eye and swallowed.
"Father Christmas doesn't exist."
No news flash, however terrible, has ever had quite the same impact.
Leave a reply