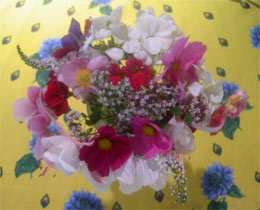 What could be sweeter than a posy of flowers. Picked from your own garden, on a sunny evening when the air is full of swallows and bees.
Not just the flowers but the joy of the moment is carried indoors to curl beside me on the kitchen table. Companionable, late into the night.
Outside, the garden drifts in darkness and the wind in the trees is the sound of the sea.
Leave a reply