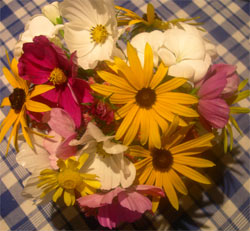 I keep on extending the borders in the first part of the garden. This means digging out masses of bricks and rubble, generally a large barrow load to a square metre of soil. I now have two things. A large pile of hardcore and a very pretty border.
Over the last two years I've filled the new border with perennials from the stand outside the secret garden. We visited this wonderful garden again early this summer when I discovered that the church fete was going to be held in the grounds.
The fete was the quintessential English church fete. A small sleepy affair with old fashioned games and homemade cakes and tea served from the open kitchen window. There was also an excellent bookstall, where I was able to complete my Moomintroll collection.
Best of all was the plant stall filled with tempting specimens at rock bottom prices. I bought lavender and cosmos. Later I noticed that the cosmos had self seeded across a circular path in a quiet sunny spot in the garden and I'm hoping that this might happen here. The plants are strong and stand three feet high. They have flowered all summer and have been amazing value – attracting bees and hoverflies and providing endless posies for the cottage.
Leave a reply