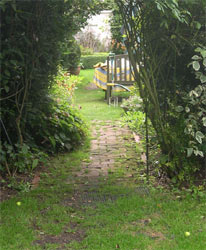 Danny's favourite youngest brother is over from Ireland.
Donagh is everything that a special brother should be. He reminisces with D and helps me with projects.
"Do you remember how Lassie would look after the day old chicks?"
"I was away at school by then." Danny was tenderly turning the steaks.
"Well, she'd lie on the ground and herd the chicks back to their mothers, very carefully with her paws. I'd watch her for hours. She'd mother any baby thing. Took over Bing's pups when she wasn't interested."
"Is that what happened?"
Donagh is a developer. He can build houses. He's an artist and is as charming as Danny. I was delighted when I discovered that he was going to visit and so disappointed when it turned out that it's just for one night.
On his first visit he almost killed me with a sledge hammer. We were fixing some fencing posts. I was holding them upright and Donagh was banging them in with an old sledge hammer that I had found in the barn. The head suddenly snapped off and whizzed through the air, narrowly missing my head. Having survived this disaster we have an unspoken closeness.
He is very keen on food. Cooking and eating. Coming from a family where large portions counted, the brothers like to eat well. When Donagh was a child Danny got to eat a lot of his food. Danny was canny. When Donagh developed an fascination with germs, Danny cashed in. All it required was to breathe on Donagh's plate.
"Mammy, Mammy, Dan breathed on my food. It's got germs. I can't eat it!"
This attitude was not encouraged. Donagh would push his plate aside and Danny would wolf the portion down.
"You loved chocolate slice and always got that." Still raw after forty years.
I sat between them at dinner to avert a possible disaster.
Leave a reply