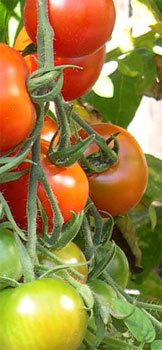 I woke at four this morning fretting about our tomatoes. It has been the same for the last three nights.
We sleep right under the eaves. When it rains, we can hear the gentle patter of rain drops on the roof and a whispery tinkling into the gutter. In the winter, snuggled up with Danny under the giant duvet, it's a comforting sound. In the summer, with the prospect of blight, it's a sound that instantly chills me to the bone.
I am a bit of an ostrich when it comes to bad news. I have been known to avoid opening bank statements for months. As a child, I used to post my mother's household bills into the drain on the main road outside our house, temporarily delaying her tears. One day she discovered my trick and was tickled by my strategy. Although she explained that the bills turn red and get you in the end, I still think drain covers when a big bill eases through our small letterbox and flops onto the mat.
Early this morning I considered creeping downstairs and examining my tomato plants with a magnifying glass. But the lure of a few more hours of sleep won and I turned over, only to dream about tomato blight.
I checked the main tomato growing area on my way to work. A quick peek first and then a lengthy examination. A few darkening leaves (removed) but no brown black stems. I also discovered that we have ripening tomatoes.
We were lucky. Our tomato plants got blight so early in the season that I was able to replace most of the plants. But I made a big mistake.
I planted the replacements in the same grow bags which probably are still harbouring the tomato blight spores. An extended period of wet warm weather could kill my plants. I have welcomed the chilly evenings these past few nights and pulled on a sweater with a whoop of joy. Eccentric behaviour for August. Unless you are a tomato grower.
Leave a reply