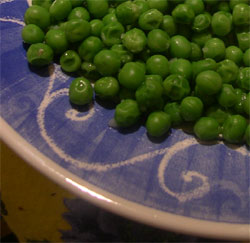 Every year we grow peas. With very limited success. Sometimes we crop more than 15 servings. Generally we don't and I find myself flying down to Newmarket to buy frozen peas for 46 weeks of the year. I always bought petit pois.
My French is bad but I always felt good buying them as I actually understood what petit pois meant. I could also feel the tiny peas through the pack and imagined them, small and green and packed with flavour. Having been brought up on Birds Eye commercials with the only the smallest peas getting through, I believed that I was choosing the tastiest peas.
One horrific day there were no petit pois in the pea section of the supermarket. I had to buy Garden Peas. I slunk home expecting a polite complaint from the Rat Room. I shoved them quickly in the freezer and cooked fresh vegetables until it was Danny's turn to cook.
A couple of days later he grabbed the bag and looked at me.
"I can only find Garden Peas."
I discovered that they had run similar commercials in Ireland when he was growing up. I explained the problem. He cooked them. They were to accompany something rather good. Intrigued, we tasted the peas. The rather good something was immediately sidelined as we realised that Garden Peas are the God of frozen Peas. They have far more flavour.
I am now irritated if I can only find Petit Pois.
Leave a reply