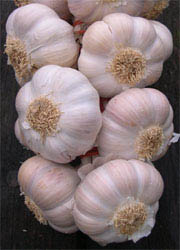 On sleepless nights I play the game 'What single ingredient would you choose to enhance your cooking?' it's a fist fight between onions, garlic and thyme. Onions and garlic win. And out of the two, garlic is always the victor.
Garlic enhances, but on it's own it can be incredible as with Jocelyn's baked garlic recipe. Fresh garlic is a also a great addition to a salad. Even the leaves of a fresh garlic head can be chopped and added to a dish. Obviously they are much stronger than chives so a little goes a long way. We have made champ with the finely chopped leaves. This summer I plan to dry some leaves to use throughout the winter. I'm also keen to pickle garlic. I love the crunch of these in salads.
Our garlic plants are doing well. In a warm bed beside the greenhouse, they will have sun all day. The garlic that we harvested in July is still firm (eight months later) so tomorrow I am going to split a head and plant the cloves. These will join thirty six feet of garlic (three different types) in our kitchen garden. Heads from England and France, two are commercially produced heads for planting. One row is the progeny of a string that Miles and Jocelyn brought back from France (Plump and kept well for months).
For the first time ever, 25% of the kitchen garden is dedicated to garlic, red onions, shallots and spring onions. We have two patches of chives beside the kitchen door so I think finally I can meet a lot of our onion needs this year.
Just after I had planted the red onion sets, my friend Phillip shook his head. "Red onions like red spring onions are very tricky. They can go to seed so quickly."
My heart sank. Everyone seems to say that it's not worth growing onions as they are so cheap to buy. My plan is to make a good onion marmalade this Autumn, with our own onions. Apparently plenty of water is the answer to stop them going to seed. Thank goodness for the water butt drip feed watering system.
Leave a reply