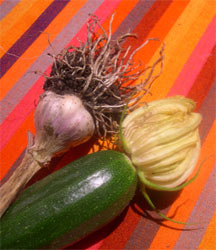 In the autumn of 2006 I split a fat head of French garlic and planted it in a sunny position in the kitchen garden. Even though we grow our own, our supply is supplemented with huge heads of garlic that Jocelyn and Miles bring back from France. Danny pottered down to the engine room (gardening wise) of our ship and christened it The French Row.
"When will we see these French ones sprouting?"
"They'll send up shoots in the spring if all is well."
In the spring it was clear that all was not well with The French Row. Just a long row of earth, not even a weed to break the monotony. I imagined that the cloves had rotted in the ground.
I had been super optimistic, hoping for a miracle bumper crop that didn't need to cross the sea from France.
Most people say that it's inadvisable to try to grow garlic from heads that you buy in the shops as it could be disappointing. In spring 2007 I opened a book and discovered that ˜could be disappointing' means that they might have been treated with sprouting inhibitors.
"Would this inhibit garlic breath?" Danny mused.
Our other garlic crop (grown from planting heads) was pathetic last summer. It sprouted but eventually left us with twenty small, mealy mouthed heads. The cool wet summer and paltry crop didn't have me clawing at the doors of the local nursery garden for new sets in the autumn.
When I eventually bought some heads mid winter, events overtook the dalliance and the heads were lost in the kitchen. Don't make the mistake of imagining that our cottage kitchen is huge. The amount of stuff in the kitchen is massive. A misplaced bag can be AWOL for years.
Having missed out on early planting last year I was amazed when The French Row started sprouting this spring. After eighteen months rest, the inhibitor had released the brakes. This evening I spotted a seed head and quickly dug up the row of heads. Small but perfectly formed garlic heads are lying on the kitchen table alongside the first courgette of the year.
Despite this belated success, I will only sow decent planting heads from now on. The three heads of garlic that I bought from the Hampton Court Flower Show are already drying in the green house for autumn planting in our sunniest bed.
Perhaps 2009 will give us the long sunny days that are needed to give us garlic that will challenge the chunky heads from France. But even if the heads are small they'll be organic and not contaminated with chemicals, bleaching agents and other horrors.
Leave a reply