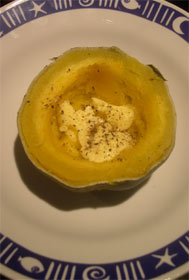 "We're going to have a gem squash for supper tonight."
I produced the dinky vegetable for Danny to see.
"How do you cook it?"
"Prick the skin in a few places and simmer for 20 minutes. Cut it in half and serve with lashings of butter and ground black pepper."
"So it's tasteless then?"
I knew that I would have a bit of a fight on my hands to get him to taste the squash. So I thought up a delicious supper menu that would allow the squash to be slipped surreptitiously under the blanket, so to speak.
I went up to the Rat Room and announced the menu to Danny.
"Lamb cutlets, flash fried in bacon fat with tarragon, cardamom, allspice and white wine. Individual ramekins of creamed potato with a parmesan topping, Lightly mashed flageolets with creme fraiche and Tabasco and scattered with crisp, streaky bacon. And squash."
He heroically waved the squash through. Who wouldn't on a Wednesday evening?
The asparagus steamer was handy for simmering the squash (I knew that it would be useful outside the asparagus season). I sliced it in two when the rest of the meal was ready and had a teeny taste before D rumbled downstairs. It was sweet and tasty. Delicious.
Danny's fork hovered over the plate. Would he eat the best or worst bit first? He bravely scooped out some gem squash and tasted it.
"This is the first time in my life that I have enjoyed a squash. How much do they cost? I must look out for them in the remaindered bin at Waitrose."
A good move as they have a long shelf life. However, the fresher they are the better. Gem squash are a delicacy.
Leave a reply