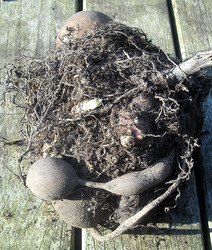 If you have not cultivated yacon before it would be worth seriously thinking about growing it this year. If you are already growing yacon you will know why! So many of the little known vegetables are a bit of a disappointment – it's easy to see why they are not in every garden in the land. Yacon is different. It's delicious. It is a great contrast to most of the winter veg that we chomp through each year. It's easy to grow and so versatile.
Yacon is a perennial tuber from South America. There it is eaten as a fruit. In the UK it is generally considered to be a vegetable. It has the sweetness of a pear and the texture of water chestnuts.
I fist heard about yacon when I read Mark Diacono's excellent book A Taste of the Unexpected
. Articles from the book have been reproduced in The Guardian. His yacon growing and cooking tips are here.
Yacon is high in potassium and antioxidants. It has a very high fructooligosacharide content. This is a sugar that cannot be absorbed by the body. So indulging in sweet yacon will not pile on the pounds. It would also be safe for diabetics as it does not raise blood glucose levels. The oligofructose in yacon helps digestion and boosts the immune system.
I must admit the above health benefits were an extra bonus when it came to deciding to grow it. The fact that it stores well and has the texture of water chestnuts clinched it for me. I adore water chestnuts but they are quite expensive if you are watching the pennies. I bought three tubers from The Real Seed Catalogue last year. I potted them up, one to a six inch pot and two of them sprouted. They stayed in the solar tunnel until the dangers of frost were over. When they were transferred to a sunny border in May, they raced away. They will appreciate regular watering and feeding.
The tubers are formed in the autumn. Like a dahlia, when the plant above the ground is blackened by the first frosts they are ready to be lifted. The bulbous tubers are the ones to be eaten. The long slim tubers are the ones to be stored and kept to grow more plants next year.
I lifted my plants in November and shoved the tubers into a bag that has been hanging on the back of the cold kitchen door all winter. This was clearly the perfect environment for the as they have not softened and as you can see from the photo the 'seed tubers' are already sprouting!
We have used yacons in several stir fries with great success. The chunky slices of yacon absorb easily the flavours and we toss them in just a couple of minutes before serving so that they retain their water chestnut crunch. We have yet to try them with other fruit. Once a yacon tuber is washed and peeled it blackens very quickly but if they are tossed in a little lemon juice they will retain their colour. Yacon tubers can be used to make a sweet syrup too.
Unfortunately The Real Seed Company lost most of their yacons last year. The tubers were devoured by rabbits – I'm not surprised as they are delicious. I've searched the Internet and have found two suppliers who are selling plants – Otter Farm and Edulis. If you do decide to invest, your plant should develop a few 'seed tubers' so you can make more plants next year. I have quite a few from my two plants but unfortunately they are all spoken for and will be potted up and given to gardening friends. And that's another benefit – they make a great present!
Leave a reply