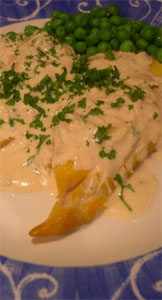 Danny and I are going through a fish phase. We've uncovered loads in the freezer, bought on offer from the Waitrose fish counter. Thick, luscious fillets, sold off at the end of the day for the change from my pocket. Once we started eating this fish our imaginations were tickled and we began to play with saucy ideas for fish, real and virtual.
Curiosity drove me to pay full price for this cheap smoked haddock from Tesco this week, to try out our recipe idea. It was easy, tasty and extremely quick to make. The onions added depth and texture to the dish. The smoked paprika, as always, made it special.
Although the haddock fillets had been on a diet, this was reflected in the price (£2.23 for two). We didn't care as the sauce was the focus. Tesco's fish counter often has excellent tubby fillets that are worth buying for a treat.
Smoked haddock with a creamy shallot and parsley sauce recipe
Ingredients:
300g smoked haddock
1 tsp olive oil
1 shallot, very thinly sliced
juice from a quarter medium lemon
2 tbsps chopped fresh parsley
Quarter teaspoon of Picanté Pimentan ( Spanish hot smoked paprika). Ordinary paprika would do at a pinch (taste and adjust)
100 ml single cream
Splosh of white wine (1 tablespoon)
Method:
Slice the shallot as finely as possible and sauté in the olive oil until transparent (we use a large saucepan).
Bring some water to the boil in a pan that can easily accommodate the fish (we use a frying pan) and poach the haddock for four minutes (test after three). Remove to a warm place when cooked.
Add the cream to the shallots, half the parsley, the white wine and the Picanté Pimentan. Cook over a very low heat until the sauce thickens (approximately 3-5 minutes).
Pour the sauce over the fish, scatter with the rest of the parsley and serve.
Tips and tricks:
If you are going to serve vegetables with this dish make sure that you have them well underway before you start cooking the fish. I sliced and cooked the onions (and set them in a warm place) before Danny started peeling the potatoes for his famous creamed potato recipe. It was 20 minutes before I opened the fridge to find the haddock.
If you don't have a local fishmonger (we don't) take a look at the fish counter in every supermarket that you visit. You may be surprised. I've bypassed uninhabited counters (humans) only to find that a month later everything has changed. It's easy to judge, relegate and miss out.
Leave a reply