The new laptop was sent to Cardiff by mistake. It should have arrived today. At least it will have toured some of the UK before we receive it on Monday and it enters a life with little rest.
Meanwhile I have harvested our garlic. I bought three succulent heads from The Garlic Farm (Isle of Wight). The company was showing at Hampton Court last summer. I dried the heads in our airy greenhouse and planted the cloves in our sunniest spot in late September. Apparently the winter frosts encourage better growth.
I need to keep a gardening diary as I can't remember what the three varieties were. Goggling at their website, I think I bought Moldavian, Albigensian and Iberian. The latter must be the ones that are a bit bigger than the rest. Even though we didn't achieve 5", more 2.5", we are delighted with of our harvest of 36 heads. Danny calls them "baby elephant garlic".
They are drying in the greenhouse and I have racy plans for their future.
There was just one thing that was odd about several plants. Small clusters of a few garlic cloves were growing on the thick stems about two inches above the head.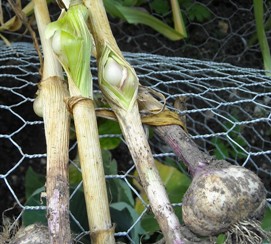 Photo: Cloves appearing on the stems of garlic
I've never seen these before. Have they developed to produce a flower head?
Any guidance would be accepted with open arms as the Delphic Oracle still  languishes in Wales.
Leave a reply