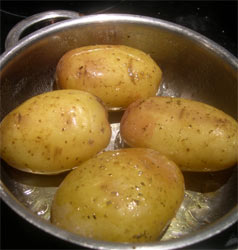 Although all heroes would demand these delicious potatoes if they sampled them, these potatoes were inspired by a wonderful dish that I tasted on my visit to the island of Hero many years ago.
Every now and then I have tried to recreate this special island dish. Small, delicious potatoes baked in the oven in a dish with a lid. They were moist, slightly salty and melt in the mouth. It was nearly twenty years ago and eating rather than cooking good food was my focus at the time. All attempts failed until a few weeks ago when, pressed for time, I tried a different approach. I kept the dish with the lid idea and tossed washed wet spuds in olive oil and deluxe Italian dried herbs.
Danny was stunned when he lifted the lid. I had discovered a new way of cooking his favourite vegetable. Politely suspicious he cut a slice and nibbled a teeny elf sized bite. His eyes were wide open within seconds.
"Why, these are delicious." He helped himself to some more. "Why haven't we had these before?"
Dead easy, these potatoes are a cross between baked and boiled potatoes. They don't have crispy skins but they are succulent and have an intense flavour. They keep warm for ages and any leftovers are great in salads or fried gently in butter and garlic. I left a pan of these for Danny to cook in the oven before I got home. Always up for a challenge he popped some baked potatoes into the oven as well. The Hero's potatoes won hands down and didn't even need to be dressed with lashings of butter.
Hero's potato recipe (for 2)
Ingredients:
500-600g of potatoes (I live with an Irishman and don't eat many spuds myself!)
1 tablespoon of olive oil
2 large pinches of good dried mixed herbs or 1 tbsp of finely chopped fresh herbs
Method:
Find a dish with a lid. I have used a ceramic oval casserole and this stainless steel relic from the 1990's. Both worked well with baking parchment as a seal.
Wash potatoes and shake them. Pop them in a pot (still wet). Splosh over the olive oil and sprinkle with herbs and a smidgen of salt.
Toss the potatoes to ensure that they are covered with oil and herbs.
Ensure a tight seal with a square of baking parchment under the lid (my new discovery – much better than aluminium foil). Bake in a low oven 160c (140c fan) for 40 minutes. Test with a fork, they are 'done' when they are the consistency of a boiled potato.
Leave a reply