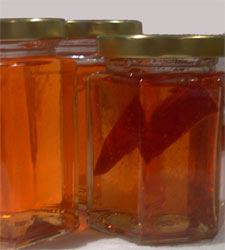 Everyone seems to be talking about chillies. They are said to trigger "feel good" endorphins and are packed with vitamin A, an immune system boosting antioxidant. Chillies improve the digestive process too as they stimulate the action of the intestine and stomach.
This year I was determined to make crab apple and chilli jelly. My first attempt was so so. There was a chilli tingle when I tasted the juice. I chucked it away. My recipe from Oded Schwartz's Preserving added 3-4 medium heat chillis. Are these desseded? I'd used three desseded ones. A long foray on the Internet offered no clues. Chop and add your chillis seemed to be the line. So when I simmered my crab apples and chillies a couple of days ago, I left the seeds in. The result was a tasty juice with just the sort of kick I wanted. Hot but not hellish.
Hot crab apple and chilli jelly recipe
Ingredients:
600g of crab apples washed and chopped
35g of medium red chilli peppers, washed and chopped with seeds in
1 litre of water
White granulated sugar 500g to each 500ml of juice
Method:
Put the chopped crab apples and chillies in a large heavy bottomed saucepan.
Add 1 litre of water (they should just be floating). Bring tp the boil and simmer until the crab apples soften and become pulpy (lid on). This took about 45 minutes.
Strain through a muslin square or jelly bag overnight. (Retain the pulp to make hot crab apple and chilli cheese)
Add the juice to a large heavy bottomed pan and add the sugar. Bring slowly to the boil, stirring to dissolve the sugar. When the juice and sugar has come to the boil remove from the heat and skim well. Return to the heat and bring to a rolling boil until setting point is reached. This took 15 minutes.
Skim and pour into warm sterilised jars. Oded Schwartz adds a chilli (stalk removed and split once lengthwise) as the jelly is setting. I really wanted to set chillies in the jelly but be warned this is a nightmare. The jelly needs to be setting firmly otherwise the chillies gently float to the surface again, and again and again. I made two jars with chillies and abandoned the rest.
Update: Following Sarah's tip (see comments),I added two firey dried chopped chillies to the jelly. Marvellous.
Leave a reply